OUR STORY
---
At Anderson's Conn Valley Vineyard, we know and care about fine wine. We want you to enjoy the best that Napa Valley, the gem of the American winemaking industry, can produce.
We provide fine wines with compelling aromas, tastes and textures which can be seen on our Trade page. Even though we are known for our Estate Cabernet Sauvignon, Éloge (Bordeaux blend) & Right Bank (Bordeaux blend), come see why our non-malolactic Chardonnay, Pinot Noir & Sauvignon Blanc have a cult following.
Please continue to browse our site for information or call today to schedule a wine tasting and see for yourself just how wonderful a wine can be with the right grapes and talented winemakers. Cheers!
2017 "SARAH'S CUVEE" SEMILLON/SAUVIGNON BLANC

"Blended of 65% Sémillon and 35% Sauvignon Blanc, the 2017 White Blend Sarah's Cuvée gives up scents of struck flint, crushed stones and baking bread over a core of chopped herbs and white peaches plus a waft of lemon zest. Medium to full-bodied, the palate delivers a ton of herb-sparked peach flavors with a racy line of freshness and zesty burst on the finish."
91+pts Robert Parker, only 46 cases made.
2017 SAUVIGNON BLANC

"This white shows plenty of complexity and detail. Smoky overtones weave in and out among the pear, lemon curd and melon flavors, with floral accents and a touch of grapefruit zest on the finish. Drink now. 375 cases made."
90pts The Wine Spectator, 91pts Robert Parker
2017 PINOT NOIR NAPA VALLEY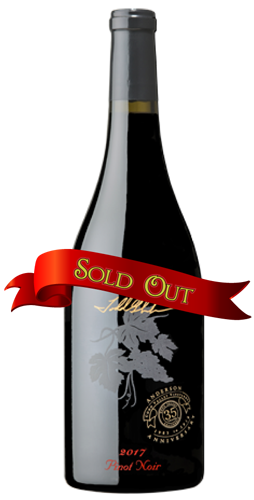 "Our love of great burgundy informs a lot of what we do here, and this Pinot Noir is produced in that vein. There's no denying however that this was grown and produced in Napa Valley. It is a bigger style, bold and full flavored. There's deep, dark chocolate covered cherry flavors, some cola notes, and a touch of new oak. It had a vibrant acidity and long flavors, and a nice finish. The earthy, forest-y notes keep it complex and compelling." – notes form the winery.
2016 CABERNET SAUVIGNON NAPA VALLEY
"Blended of 86% Cabernet Sauvignon, 7% Merlot, 5% Cabernet Franc and 2% Petit Verdot, the deep purple-black colored 2016 Cabernet Sauvignon rocks up with quite a profoundly earthy nose of tilled black soil, underbrush and truffles over a core of baked plums and warm cassis plus a waft of dried herbs. Medium to full-bodied, the palate is packed with vibrant black fruits and a solid structure of ripe, grainy tannins, finishing with bags of vivacity."
93pts Robert Parker
2016 RIGHT BANK NAPA VALLEY

"The 2016 Right Bank Proprietary Red Wine is composed of 56% Cabernet Franc and 44% Merlot. Deep purple-black in color, it comes leaping out of the glass with bold blackberry, warm plums and black cherries scents complimented by hints of chargrill, tar and cedar chest. Medium to full-bodied, it fills the mouth with soft-textured black fruits, finishing on a lingering peppery note."
94pts Robert Parker
2015 RIGHT BANK NAPA VALLEY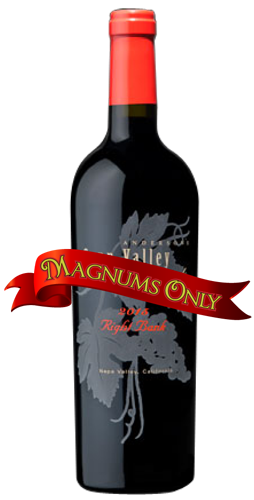 "(57% Cabernet Franc, 42% Merlot) Dark cherry, tar, and violets open up to earthy green tea and floral cardamom notes. Dense cherry and black fruit lifted by fresh acidity. The texture of the wine evolves over time in the glass gaining a plush center with opulent flavors of exotic spices. The tannins are polished and should allow this Right Bank to gain complexity and depth in the bottle as well as marking it as one of the finest examples of this wine produced by Anderson's Conn Valley." – notes from winemaker Robert Hunt.
92 points Vinous
2016 ELOGE NAPA VALLEY

"Made up of 66% Cabernet Sauvignon, 28% Cabernet Franc, 4% Merlot and 2% Petit Verdot, the deep purple-black 2016 Eloge Proprietary Red Wine is provocatively scented of crushed black cherries, red and black currants and kirsch with nuances of Indian spices, cardamom, forest floor, smoked meats and tilled soil. Medium to full-bodied and strutting a lot of poise on the palate, it gives layer upon layer of red and black fruits with loads of earthy sparks and a finely textured finish."
97+pts Robert Parker, very limited availabilty, please call
2015 ESTATE RESERVE CABERNET SAUVIGNON NAPA VALLEY

"The 2015 Cabernet Sauvignon Estate Reserve is a smokin' good blend of 97% Cabernet Sauvignon and 3% Petit Verdot. Its deep purple/plum color is followed by a terrific perfume of blackcurrants, nori (seaweed wrapper), dark chocolate and licorice, and it develops more minerality with time in the glass. Rich, full-bodied, concentrated and structured, it has sweet tannin, a great mid-palate, and a big finish. It's still youthful and backward, and needs 3-4 years to show at its best, but will keep for two decades. 94+ points" – Jeb Dunnuck 12/29/2017.
93pts Robert Parker, 94pts The Wine Enthusiast, 94+ Jeb Dunnuck
NOW AVAILABLE AT THE WINERY ONLY – PLEASE PLAN A VISIT SOON
2015 SIGNATURE CABERNET SAUVIGNON NAPA VALLEY

"Lastly, the 2015 Cabernet Sauvignon Signature is based all on Cabernet Sauvignon that spent 20 months in 65% new French oak. It's a classic wine that's packed with notions of blackcurrants, scorched earth, tobacco leaf and roasted herbs. Rich, full-bodied and concentrated, it has the most mid-palate depth of the trio, possessing building tannin, and a great finish. It another terrific wine from this estate that has two to three decades of longevity ahead of it. 95pts" – Jeb Dunnuck 12/29/2017
95pts The Wine Enthusiast, 94pts Robert Parker
2015'S ARE ALL NEW FROM ANDERSON CONN VALLEY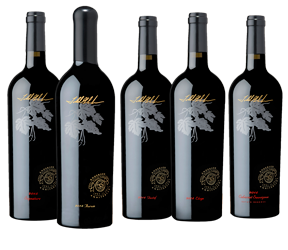 "We are especially proud of the 2015 vintage releases, and we don't say that lightly or frivolously. There has been a great deal of spectacular wine produced on this property, and plenty to be gratified by – but these new releases are something else indeed. There is a completeness to the '15s that is otherworldly. They're both powerful and elegant, stylish, structured and very complex wines. We won't release them for another year or so, but we'd be pleased to give you a preview when you visit us."
2015 AURUM

"Aurum is a newer blend, meant to represent the best we can produce. And we mean the very, very best. It is a profoundly complex, extraordinary wine with medium-full body, beautiful deep purple robe, with a nose that reveals (with decanting!) cedar wood, crème de cassis, spices, light smoke, black raspberry, iron, tobacco and cigar box aromas. It is smooth, mouth-filling and present. The length, and the elegance of the wine will surprise and delight the most sophisticated palate. We could not possibly be prouder."
97pts Wine Enthusiast, 96pts The Wine Advocate
2016 AURUM

"The 2016 Cabernet Sauvignon Aurum is made up of 84% Cabernet Sauvignon, 11% Petit Verdot and 5% Cabernet Franc. Deep purple-black in color, it reveals an achingly beautiful nose of candied violets, lilacs and rose hip tea over a core of blackcurrant cordial, Black Forest cake and fresh wild blueberries plus touches of forest floor, tapenade, licorice and chocolate box. The palate is full-bodied and decadently fruited yet possesses bags of finesse, with a wonderfully plush, fine-grained texture and great vibrancy, finishing with epic length and depth."
98+pts Robert Parker
2016 GUSTAF: OUR FINEST CABERNET FRANC

"The 2016 Cabernet Franc Gustaf is blended of 86% Cabernet Franc and 14% Merlot. Deep purple-black in color, it has a pronounced tar and espresso-scented nose over notions of crushed red and black currants, kirsch and black raspberries with touches of pencil shavings and wilted roses. Medium to full-bodied, the palate reveals a myriad of red and black fruit layers with a chewy frame and long perfumed finish."
95+pts Robert Parker, only 88 cases made
TO SEE WHAT THE CRITIQUES SAY CHECK OUT THE AURUM CLUB FLYER OR GO TO OUR TRADE PAGE TO LEARN MORE ABOUT OUR PRODUCTS.