Napa Valley Wines Feature Diversity & Quality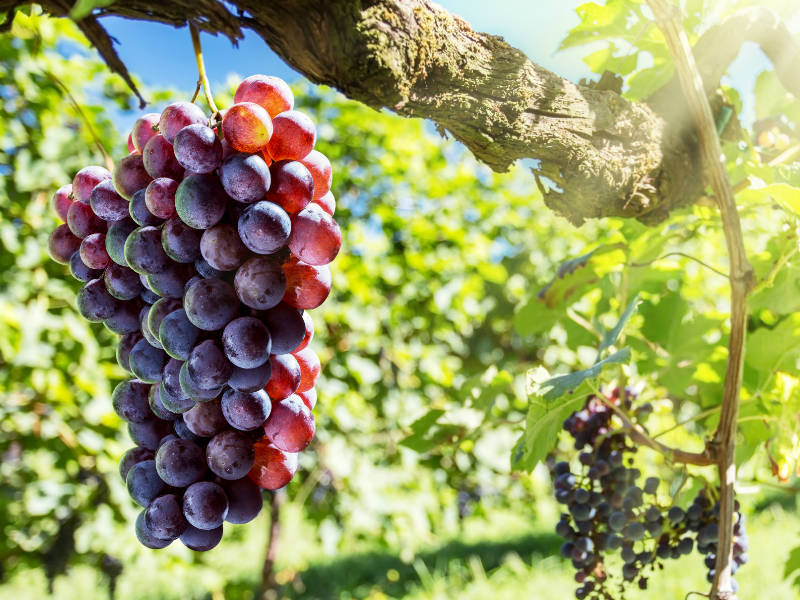 Napa Valley wines are the best
It seems that there's hardly a state in the nation that doesn't boast of having its own vineyards and wineries these days. While it's true that the grape will grow in all sorts of places, some places still produce better wine grapes than others, and it's hard to beat Napa Valley wines in terms of quality. The Napa Valley's intricate topography offers a wide range of potential growing areas to choose between, from fields of rich volcanic soil to rugged mountainsides, each imparting a different set of qualities to the terroir of the grapes.
Valley Floor vs Mountain Grapes
Discerning tasters can detect these differences. The grapes grown on the valley floor are brighter and more ripe, with a heavier feel on the palate. Mountain grapes are darker, with more acidity and tannins. This is because marine layer fog from San Francisco Bay often covers the Napa Valley at night and during the morning in late summer and early fall. This means that nights on the mountains are warmer than in the valleys. The grapes continue to ripen in the dark, without photosynthesis, resulting in less sugar and more tannins within the fruit. In addition, the soil on the mountain slopes tends to be less fertile. The stress this places on the vines also favors quality over quantity.
You may be wondering what effect the infamous multi-year drought in California has had on the wine industry in Napa Valley. Fortunately, Napa Valley wineries don't need that much rain, and many switch to dry farming as soon as the buds break in the vineyards. Once the fruit starts to grow, in fact, too much rain can result in the growth of mold. The only time the wineries really need water is after harvest and during the winter.
Superb Napa Valley wines from a St. Helena winery
Some of the best California wines come from Anderson's Conn Valley Vineyards in Napa Valley. Just a 10-minute drive from downtown St. Helena, Anderson's Conn Valley Vineyards produces world-class wines at affordable prices. The vineyard is a 40-acre estate just south of Howell Mountain. The microclimate of Conn Valley is cooler than many other parts of the valley, although warmer than Howell Mountain itself, so the grapes they grow are closer to mountain grapes. At the vineyard, you have the chance to meet the owners and wine-makers and taste excellent wine stored in a cave.
Anderson's Conn Valley Vineyards has been owned and operated by the Anderson family since 1983. Anderson's wines are sold online and in five locations in Napa Valley, and many other locations nationwide. By ordering six bottles or more per year, you can join their wine club. This will get you a discount on many of their finest wines.